Full Frame Anamorphic Lens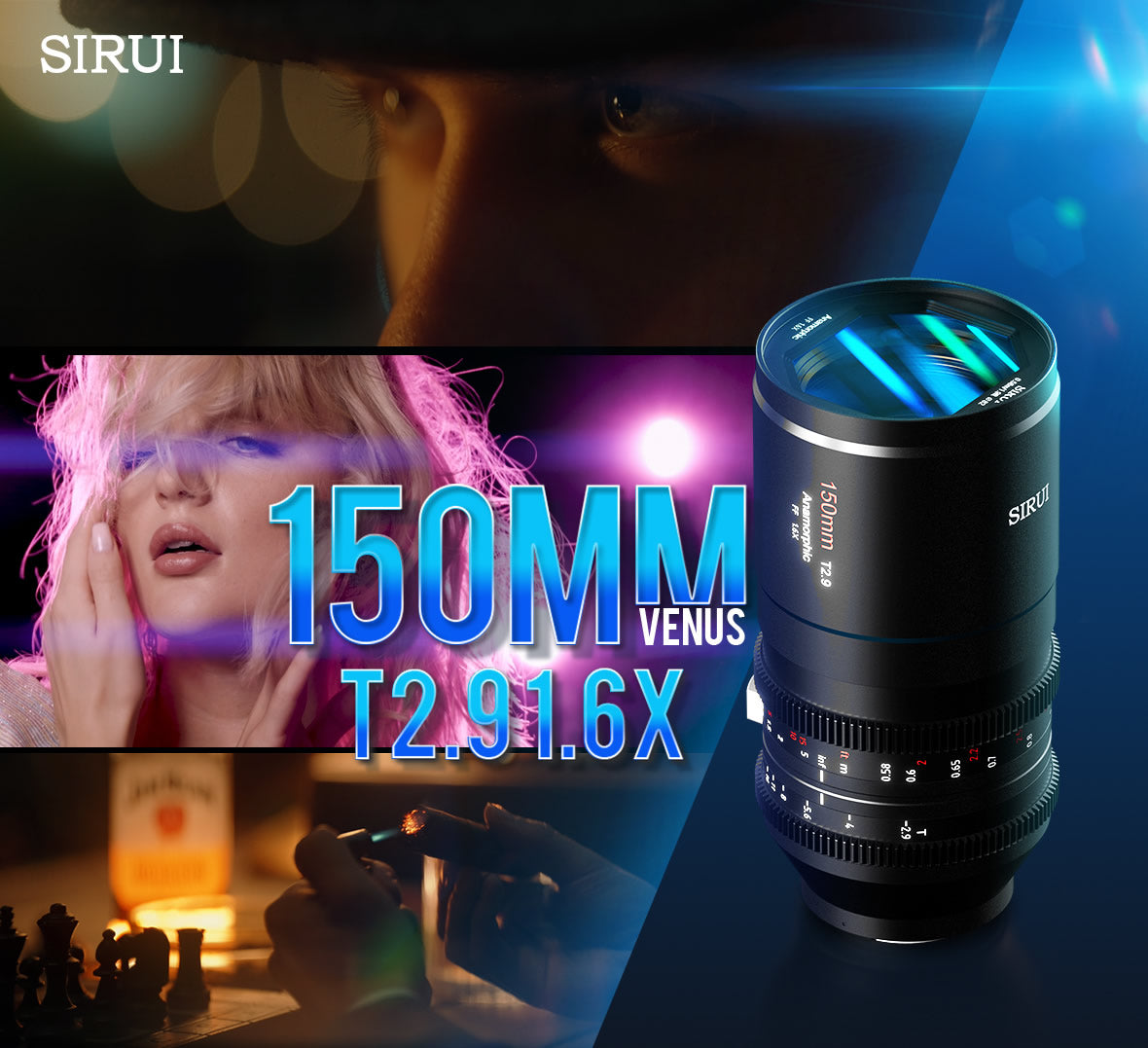 1.6x

Full
Frame

Shallow Depth
Of Field

Oval
Bokeh

Lens
Flares

Close-Ups/
Portrait
Shooting
0.58m
Minimum Focus
Distance
Besides 35mm, 50mm, 75mm and 100mm lenses, SIRUI is introducing another telephoto lens, the 150mm T2.9 1.6x, to further complement their 1.6x Venus full-frame anamorphic lineup.
This lens matches well with the 1.6x lineup in terms of color tone, lens flare style, gear position, etc., and together they make a versatile set that can be used to tell a complete cinematic story.
WHY CHOOSE SIRUI 150MM FULL FRAME ANAMORPHIC LENS?
The extra reach allows you to frame the subject properly without having to stand very close to it.
This lens performs well optically with high sharpness and low distortion. Equivalent to a 94mm horizontally, it is considered a great choice for portraits, emotion expression, still life, distant subjects, etc.
High Sharpness and Low Distortion
Still Life
Close-Up
Portrait
Emotion Expression
The 150mm has a shallower depth of field, smoother blurred backgrounds and more elongated oval bokeh than the other lenses, which separates the subject from background.
0.58M MINIMUM FOCUS DISTANCE
Breaking through the limitation of other anamorphic lenses, this 150mm lens, with the minimum focus distance of 0.58m, is suitable for close-ups.
WIDESCREEN LOOK
When shooting 3:2, this lens offers a 2.4:1 aspect ratio, which is favored by professional cinematographers, photographic teams, etc.
You get a wider 2.8:1 aspect ratio when using this lens on a 16:9 sensor. The widescreen images can be cropped to different aspect ratios depending on your needs.
2X CONSTANT SQUEEZE
Screw the SIRUI 1.25x adapter onto the 1.6x anamorphic to achieve a 2x squeeze. A higher squeeze brings more noticeable anamorphic characteristics.
Venus 1.6x
1.25x Adapter
Squeeze Ratio
150mm+1.25x adapter
BEAUTIFUL OVAL BOKEH
This lens, with a squeeze factor of 1.6 times, produces widescreen aspect ratio, lens flares and oval bokeh that only anamorphic lens creates, making the footage attractive.
LENS FLARES
The classic blue lens flares stand out for adding a Sci-Fi ambience to your shots without being too aggressive.
STUNNING IMAGE QUALITY
In terms of image quality, this lens is sharp without being clinically sharp. And the chromatic aberration and focus breathing are very well controlled.
CONSISTENT ACROSS THE WHOLE SET
Full Frame&High Resolution
Identical Gear Position
Uniform 82mmFilter Thread
T2.9 Max Aperture
VARIOUS SCENARIOS
Handheld
Tripods
Stabilizer
PERK
SPECS
SPECS
WHAT'S IN THE BOX
Lens *1
Package Box *1
Instruction *1
Warranty Card *1
Storage Bag *1