Bendable Light
for More Possibilities
SIRUI
B15R
Bendable RGB LED Tube Light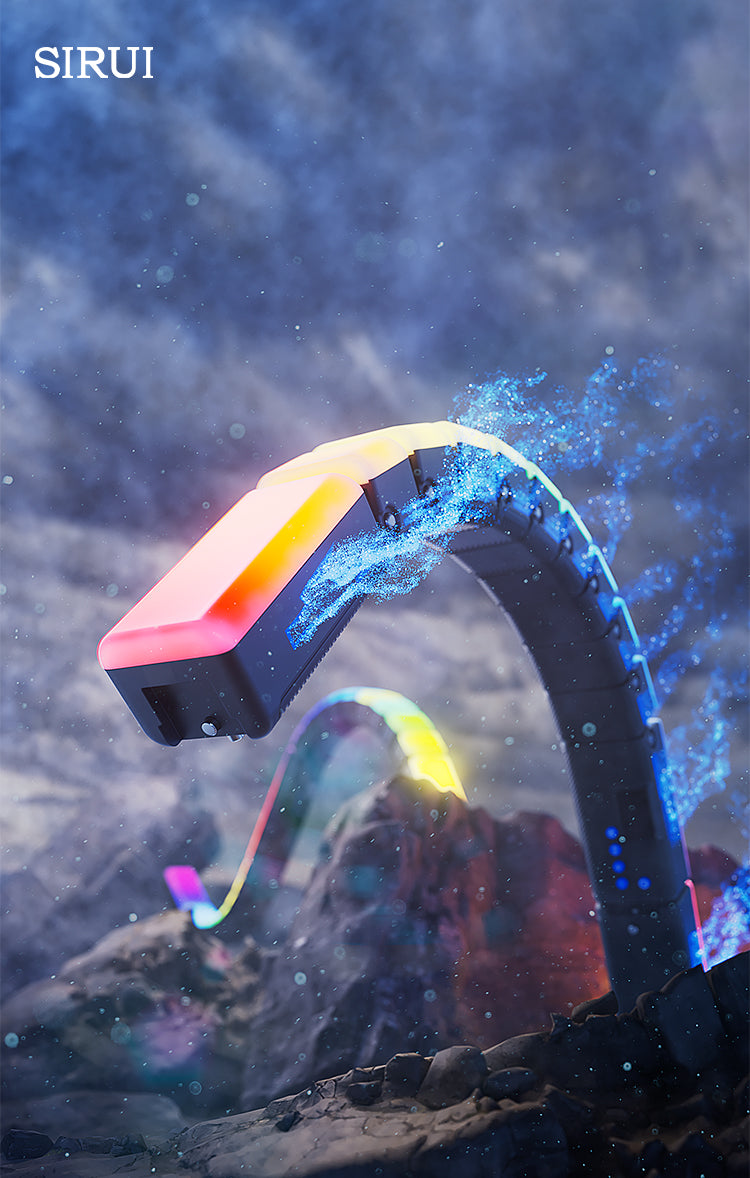 Compact & Portable
Two-Way Bendable
6 Pixel Effects
13 Special Effects
CCT
2500K~7000K
High CRI/TLCI
Connecting
Pattern
Optional
Control Methods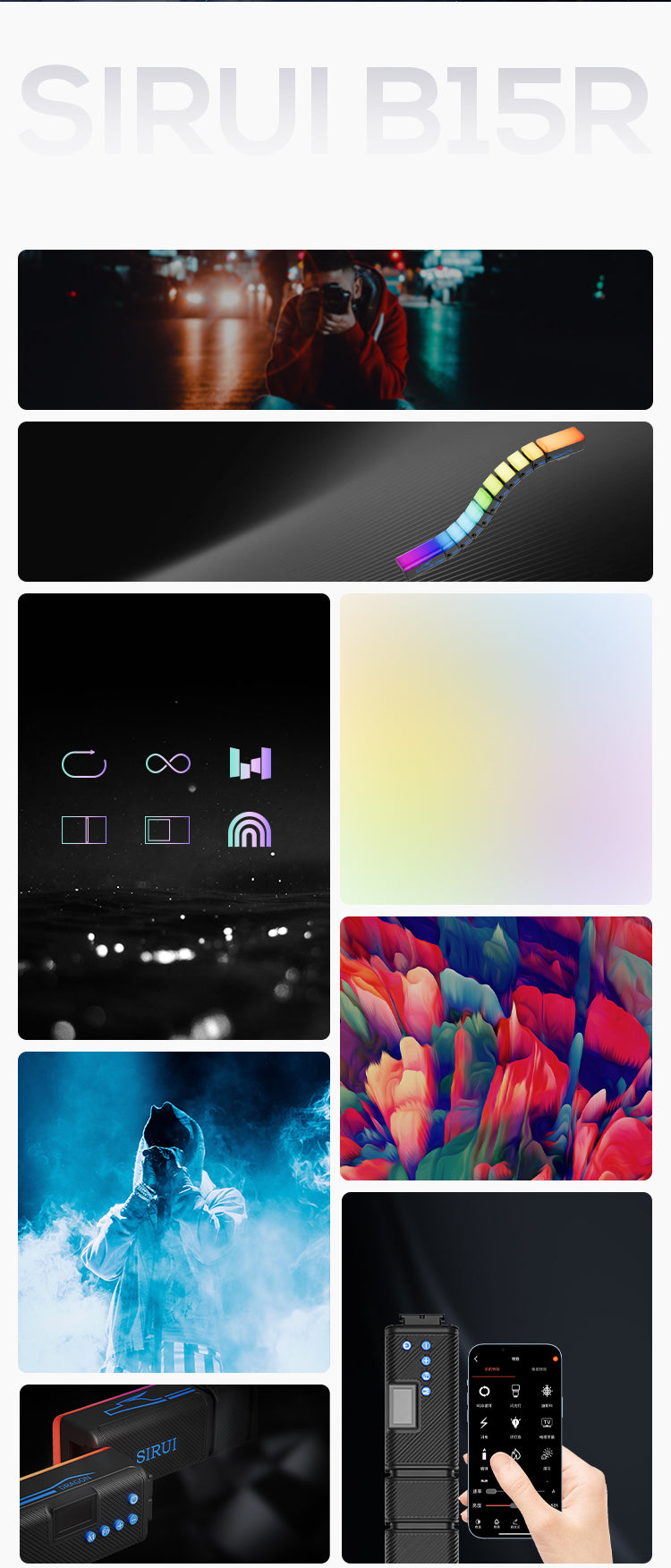 Compact & Portable
This B15R light weights only 652g, which allows run-and-gun shooting.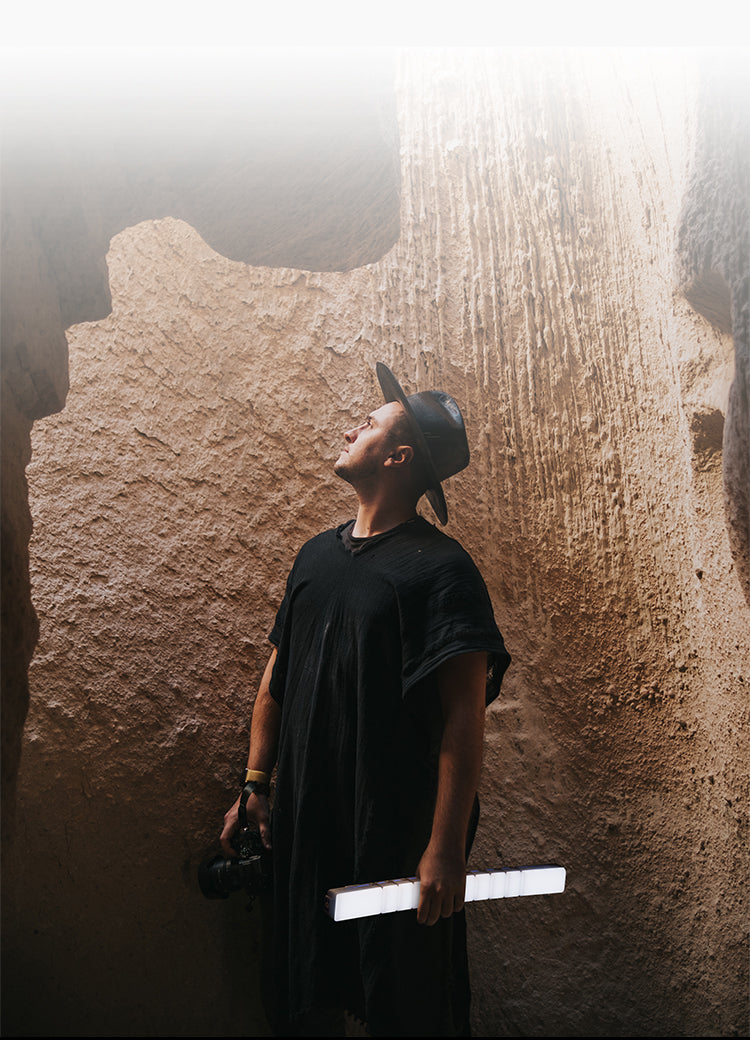 Two-Way Bendable & Multi-Light Combination
This two-way bendable light can be shaped according to different shooting subjects to create smooth light.
Each end of the B15R features a cold shoe mount, which helps you to seamlessly combine several lights together for a longer, brighter light source.
Cold Shoe Mount
Locking Pin
Cold Shoe
1/4"-20
Threaded Hole
1/4"-20
Threaded Hole
Display Screen
6 Pixel Effects
The B15R Tube Light, with 6 adjustable pixel effects and three optional speeds, is suitable for creating effects in both still imaging and video productions.
Connecting Pattern
Combine the main light and following lights with the connecting cable. All the following lights are set at PASV MODE and control the following lights via adjusting the PIXEL MODE of the main light.
Pixel Mode Connecting
*The main light is the left one.
(All the cables are not included.)
Main Light
Following Lights
Adjust the settings of the leftmost light to control other lights.
The following lights are set at PASV MODE.
FX Mode
The speed of all 13 effects can be adjusted to suit different lighting needs.
Wide CCT Range
The variable color temperature from 2500K to 7000K ensures a smooth transition from tungsten to daylight.
High Output
Illuminance: 1100 LUX @ 0.5M
Colorful
Good
Not Good
Awful
Inner Battery
Inner 2600mAh lithium battery can supply power for about 60min. Charging while using is available for long time shooting.
Optional Control Methods
Two built-in 1/4" threaded holes
help mount light stand or other accessories.
1/4"-20 Threaded Hole
What's in the Box
Light Body*1
USB Charging Cable*1
Dimension
51.5cm*5cm*4.5cm
20.28inch*1.97inch*1.77inch
USB Power Supply
Available
Power Consumption
Max 20W
100% Illuminance (LUX)
Max 1100lux/0.5m
Ambient Temperature Operation
-10℃-45℃
Control Method
On-Board Control, APP, DMX
Wireless Operating Range
15m