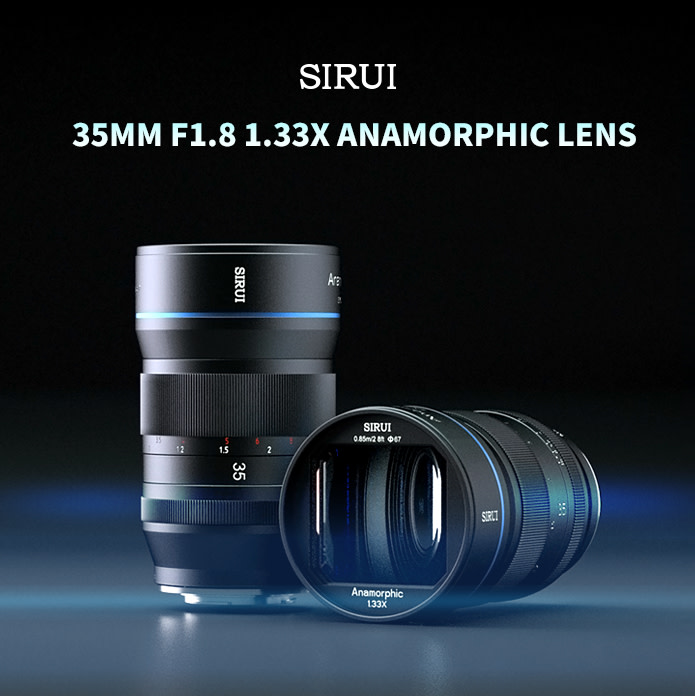 Key Features
●Covers Micro Four Thirds/APS-C Sensors  ●Suitable for 4K Image Capture
●2.4:1 De-Squeezed Format; 10-Blade Iris   ●191° Focus Rotation
The MFT-mount 35mm f/1.8 Anamorphic 1.33x Lens from Sirui is designed for MFT/APS-C cameras and increases the horizontal FOV by 33% in comparison with traditional 35mm APS-C lenses. The result is equivalent to a wider 26.3mm APS-C lens. 
Due to the popularity of cinematic aesthetics, photographers and shutterbugs usually convert a 16:9 camera shot into a 2.4:1 cinematic aspect ratio via post-editing applications. Although this method achieves a cinematic look, it also degrades the footage and results in lower quality images.
Shot with general 35mm camera Lens
Shot with SIRUI 35mm Anamorphic Lens
When shooting with a compatible camera, the 35mm F1.8 Anamorphic Lens uses its 1.33x squeeze factor to widen the horizontal field of view and produce a wider, full HD 2.4:1 cinematic video without any post-cropping.
Capture more through the 35mm focal length. With a simple switch to the SIRUI 50mm Anamorphic Lens, extend your shots for perfect cinematic work.
Shot with SIRUI 50MM Anamorphic Lens
Shot with SIRUI 35MM Anamorphic Lens
Shot with SIRUI 50MM Anamorphic Lens
Shot with SIRUI 35MM Anamorphic Lens
Shot with SIRUI 50MM Anamorphic Lens
Shot with SIRUI 35MM Anamorphic Lens
Special in its anamorphic structure and multilayer Nano-coatings, this 35mm lens softens and controls lights within a scene using the special function, Sci-Fi Blue Light Streaks with Pleasing Star Burst.
Backlighting Effect
As users adjust the aperture, the unique light streaks and star burst will adapt to the aperture value for the optimum cinematic visual effect.
Backlighting Effect + Blur Light Streak with Star Burst 
Eye your scenes through the lens and revive their beauty by adjusting the light setting between the F/1.8 and F/16 apertures. Even wide open at F/1.8, this lens can still produce sharp, quality imaging with a smooth depth of field when targeting the subject/object using the 35mm focal length.
Due to the 1.33x squeeze factor, the round light spots in the background will de-squeeze into an enchanting oval bokeh, which couples with the foreground for an aesthetic upgrade.
Oval Bokeh Effect without Subject
Oval Bokeh Effect with Subject
Well-built with an innovative optical lens structure and German-manufactured Schott optical glass lens elements, the anamorphic expert lens minimizes optical distortion and lens breathing effects and functions perfectly to generate superb cinematic imaging.
This portable lens also excels at controlling chromatic dispersion to produce unique visual characteristics and provide sharp, high resolution images.
The 35mm Anamorphic Lens is solidly constructed with aircraft aluminum alloy and a precision CNC machining process.
The compact lens further optimizes focusing and aperture control systems using the two additional Gear Rings (0.8 Module). They're attached to the built-in Focus and Aperture Rings, and they're designed with a comfortable anti-slip teeth surface..
Manually adjust the focusing and light settings with precision scale marks on the ultra-smooth, copper Focus and Aperture Rings.
The 35mm lens can attach to an M4/3 mirrorless camera and fit onto an APS-C mirrorless camera with a selection of E, EF-M, and Z lens mounts by attaching the optional adapter rings.
*  Switch to an APS-C format before shooting with a compatible full-frame camera.
* In some scenarios, a little bit of vignetting might occur when using the lens while it's attached with an adapter ring.
Compared to general camera lenses, the SIRUI 35mm F1.8 1.33x Anamorphic Lens can easily produce a cinematic widescreen look for users without post-cropping or using additional tools to highlight their creative shots.
Furthermore, this lightweight 35mm Anamorphic Lens delivers high-quality, cinematic imaging for users at a great value. It is a perfect companion for commercial directors, studio photographers, vloggers, cinematographers and cinematic enthusiasts.