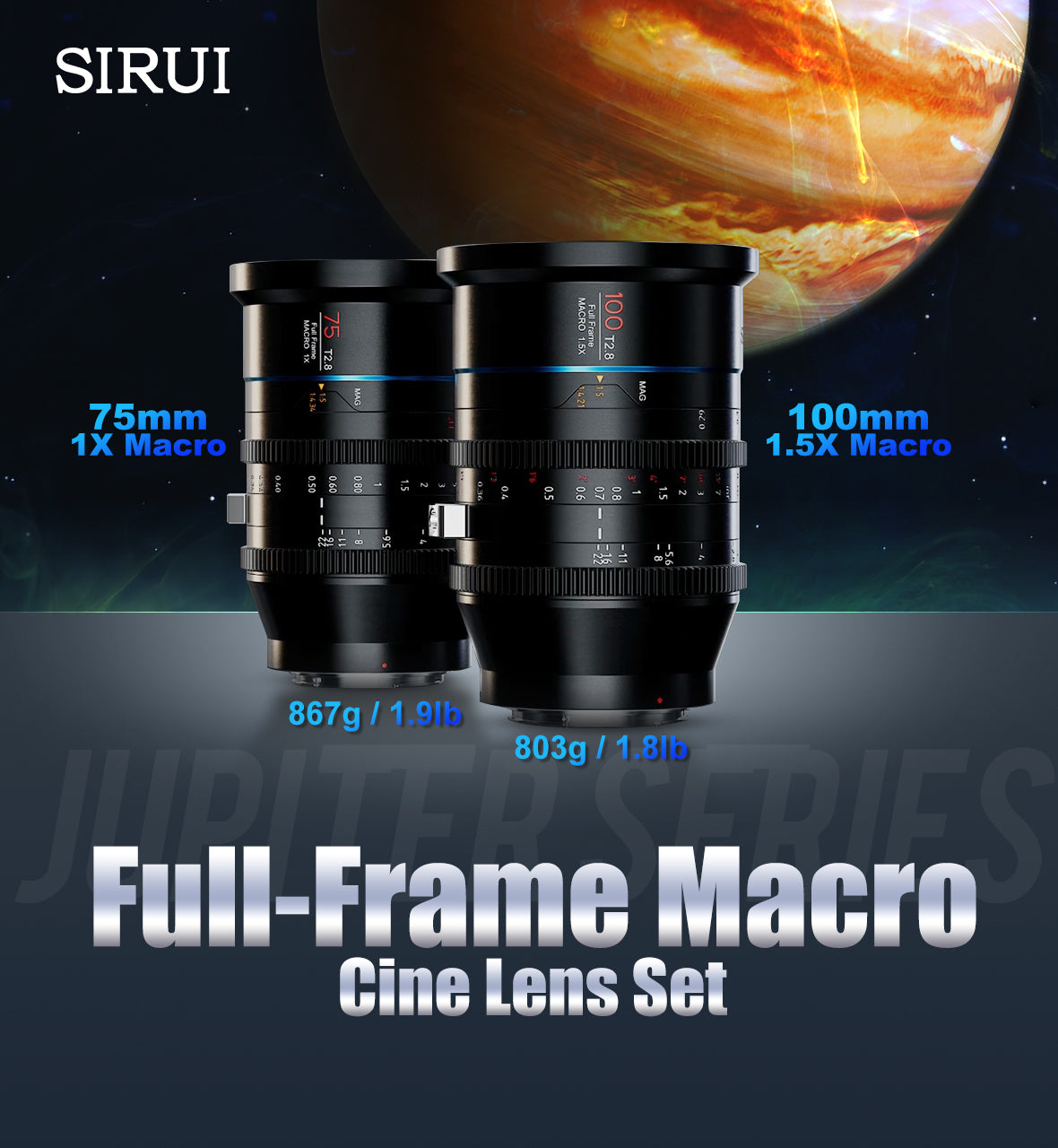 SIRUI has launched a macro lens set including 3 focal lengths, a 24mm T2, a 35mm T2 and a 50mm T2 before. At present, two new lenses, 75mm T2.8 (Macro 1:1) and 100mm T2.8 (Macro 1.5:1) are designed to complete the Jupiter Full-Frame Cine Macro Lens Series. Standard wide angle lenses with long focal length help enrich creation in your productions. This budget friendly macro cine lens set with identical gear position, 95mm front diameter and same characteristic may be your first choice.
At a 0.29m minimum focus distance, the 75mm lens features 1X magnification and the 100mm lens features 1.5X magnification, which allows you to capture close-up with more details.
0.29m
Minimum Focus Distance
With the compression of long focal length, background is blurred and the subject is focused, suitable for close-ups of insects, flowers, precision electronic products, emotion, action, etc.
Precision Electronic Products
High quality coating on the lens reduces stray lights. Users can also get professional images with perfect sharpness, excellent color accuracy and strictly controlled distortion and aberration.
The images captured via Jupiter Series lenses are at the vintage level, featuring isolating subject and pleasing bokeh.
100mm Macro 1.5X lens weights only 803g, ideal for run and gun shooting.
100mm Macro 1.5X
The lenses in the Jupiter Series are all the similar size and weight, with identical gear position and 95mm front diameter, which are compatible with same accessories and allow quick lens swap.
Identical 95mm Front Diameter
Identical Gear Position
Lens featuring same characteristic and matched color tone helps create high-end and integrated productions.
SIRUI Jupiter Series is available in native PL/EF mount, compatible with many professional cinema cameras. E/RF adapter is offered for use on a wider range of popular mirrorless cameras.
PL Mount
EF Mount
PL Lens to Sony E-Mount Camera Adapter
PL Lens to Canon RF-Mount Camera Adapter
EF Lens to Canon RF-Mount Camera Adapter
EF Lens to Sony E-Mount Camera Adapter
This portable and affordable macro cine lens set featuring high image quality is a brilliant film shooting tool for film studio, self-media, director or young people.
Why We Choose SIRUI Jupiter Series Lens Set